Splash of Colour Art Trail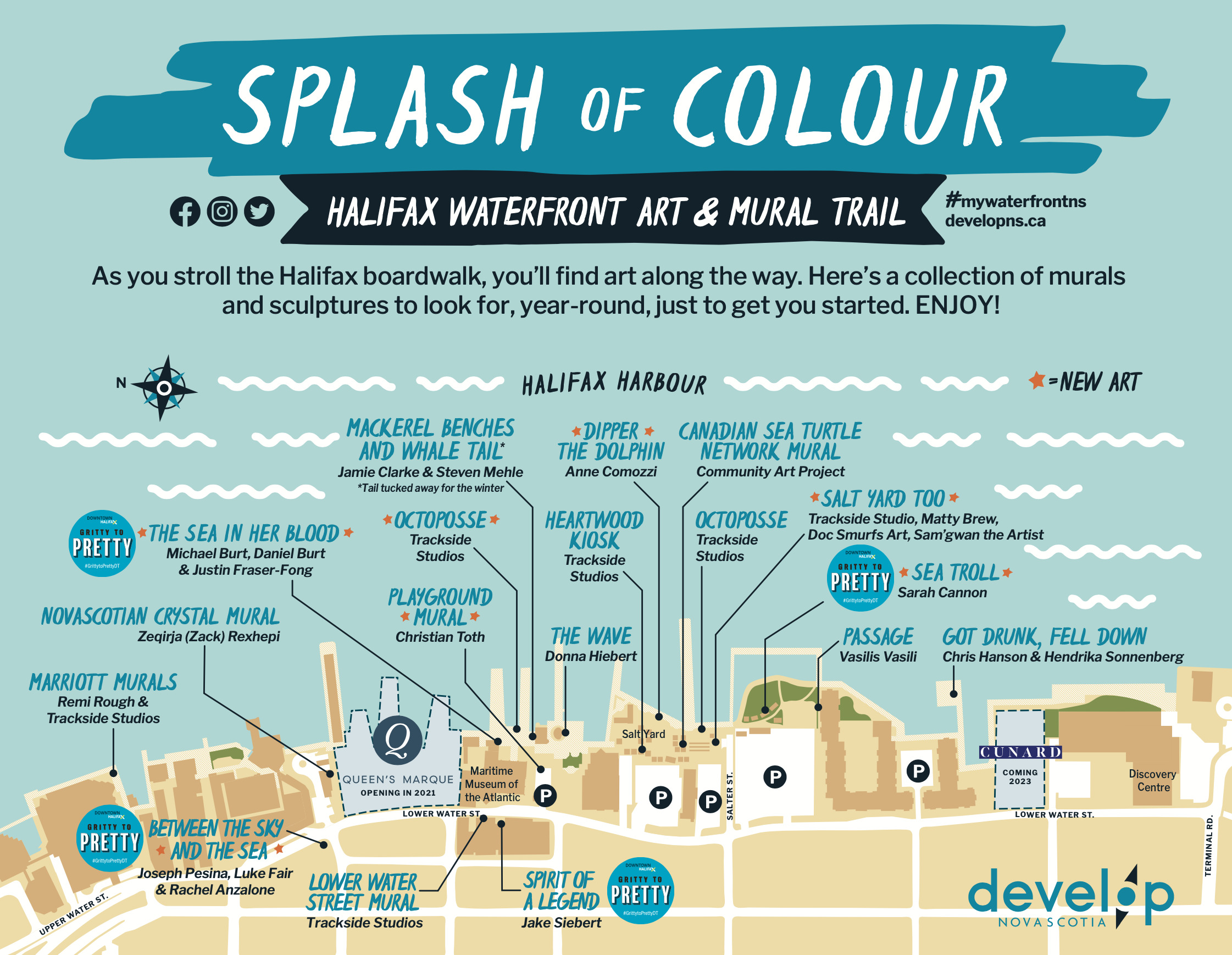 Whether it's March Break, a sunny summers day or a winter walk, get outside and head waterside along the Halifax waterfront to explore and find more than 15 works of art that will add a 'Splash of Colour' to your day!
Use this handy map to embark on your self-guided adventure as you meander and stroll from end to end of the 4km Halifax boardwalk. 
AND, why not  explore even more art, check out the Self-guided Downtown Art Tour featuring a collection of Gritty to Pretty Murals. Want a bit of inspiration? Watch this great video from Nova Scotia Youth Ambassadors as they perform against a backdrop of Gritty to Pretty murals!
Planning your March Break itinerary for in/around Halifax? Here's a great resource!
*Remember to practice physical distancing, maintaining 6ft apart, while enjoying the waterfront within your family bubbles – wearing a mask when you can't.
Here are 18 murals and works of art you can find using our handy Splash of Colour map, of course, art is all around us, consider this simply a starting point:
Fell Down, Got Drunk and Fountain, near Bishops Landing.
Artists: Chris Hanson & Hendrika Sonnenberg
Passage located along the boardwalk by Vasilis Vasili
"Sea Troll" Mural adorns I Heart Bikes
A reflection of our natural heritage and proximity to the sea, explore your surroundings through this unique and magical depiction of sea creatures in this new addition to the Gritty to Pretty collection, a project by the Halifax Downtown Business Commission.
Artist: Sarah Cannon

Salt Yard Too Mural


Making a splash this year is a bright and cheerful mural nestled within the expanded picnic table patio area of the Salt Yard,

Salt Yard Too!


Artist:

Trackside Studios
The Octopusse Family has grown!
You may have already discovered our bright,
cheerful and colourful family of Octopusse  who have came ashore over the years, now you need to look for the newest additions! 'Mom' is in the Salt Yard Too, with some of her little ones nearby, but be sure to look for the newest one near the Nova Scotia Visitor Information Centre too.
There are 6 to find along the way – 7 if you include 'Mom' in the Salt Yard Too – can you find them all?


Artist:

Trackside Studios
Planter Paintings: Outdoor Gallery
Curated by Youth Art Connection in August of 2020, look for works of art by Matty Brew, Doc Smurfs and Sam'gwan the Artist.
Dipper the Dolphin
Look for this special waterfront guest perched high above in the Salt Yard!
Artist:  Anne Comozzi
Heartwood Café Kiosk Mural by Trackside Studios
Canadian Sea Turtle Network Mural, a community art project.
Playground Mural
When you visit the 'Submarine' playground along the waterfront, be sure to take a peek around the backside to see the ocean unfold before your very eyes.


Artist:

Christian Toth
The Wave by Donna Hiebert
Whale Tail & Mackerel Benches by Jamie Clarke and Steven Mehle
The Sea in Her Blood
This splash of colour salutes the sea, greeting boardwalk guests at the Maritime Museum of the Atlantic. It's another unique addition thanks to the Gritty to Pretty program in Downtown Halifax.
Artist: Michael Burt, Daniel Burt & Justine Fraser-Fong
Spirit of a Legend, Jake Siebert, (Halifax Distilling Co Mural)
Lower Water Street Mural by Trackside Studios
Between the Sky and the Sea
Adding a splash of colour along Lower Water Street, keep watch for this new addition to our streetscape. Another project by Gritty to Pretty!
Artists: Joseph Pesina, Luke Fair & Rachel Anzaline
NovaScotian Crystal Mural by Zeqirja (Zack) Rexhepi
Enjoy this waterfront favourite from the new, refreshed, Cable Plaza.
Halifax Marriott Harbourfront Murals by artists Remi Rough and Trackside Studios