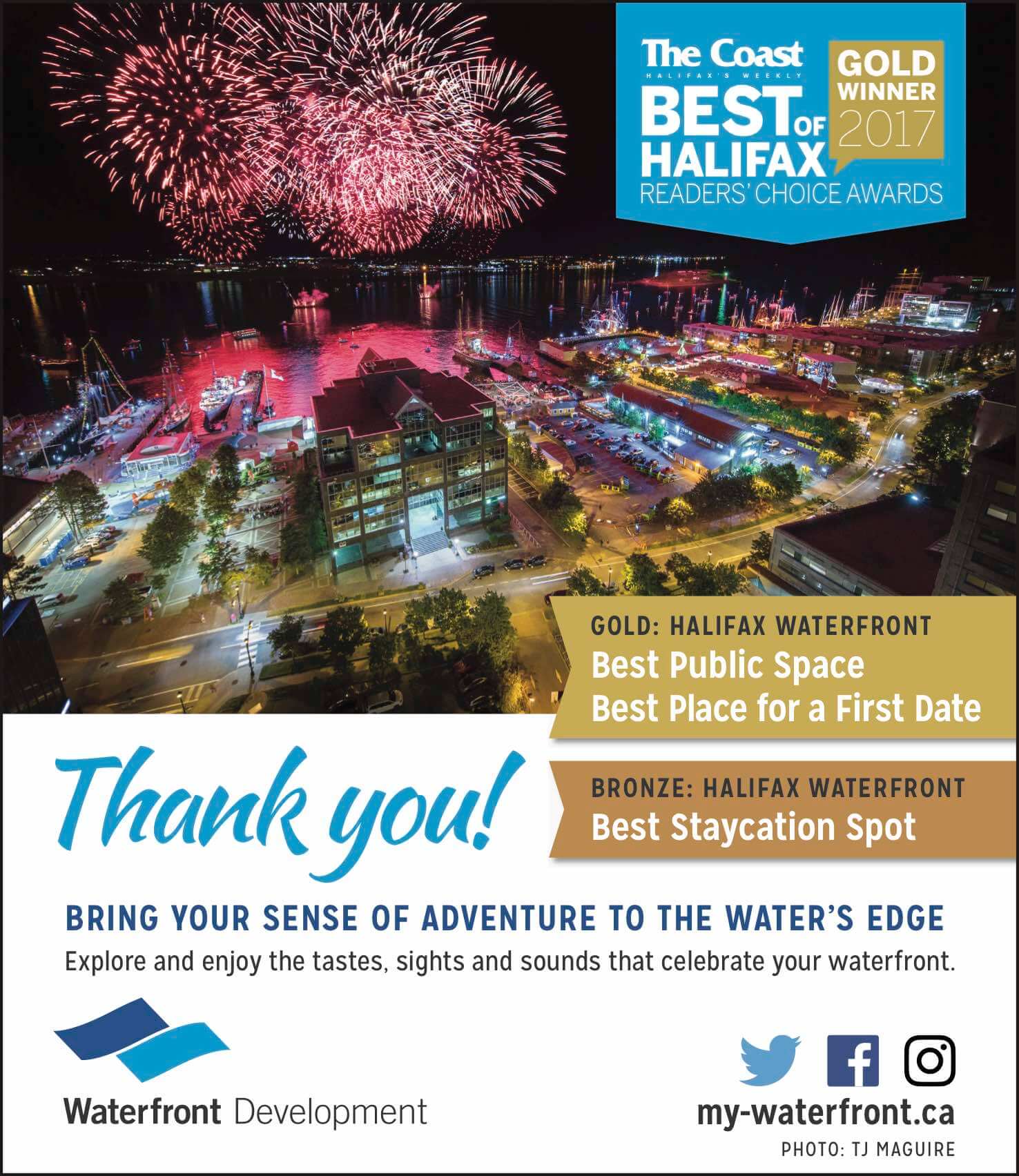 THANK YOU to The Coast Halifax readers who voted in this year's Best of Halifax Readers' Choice Awards!
The Halifax waterfront received GOLD: Best Public Space, GOLD: Best Place For A First Date and BRONZE: Best Staycation Spot.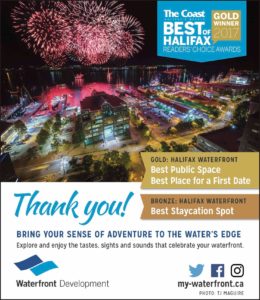 Congratulations to all, and to our waterfront partners from dining to events, music to destinations including the Town of Lunenburg on GOLD for Best Staycation Spot. Check out some of the highlights below. For a full list of categories and winners visit here.
Highlights:
PUBLIC LIFE
BEST PUBLIC SPACE
GOLD Halifax Waterfront
BEST PLACE FOR A FIRST DATE
GOLD Halifax Waterfront
BEST STAYCATION SPOT
GOLD Lunenburg
BRONZE Halifax Waterfront
BEST LOCAL CHARACTER
GOLD Theodore Tugboat
BEST MEMBER OF PARLIAMENT
GOLD Andy Fillmore
BEST MUSEUM
GOLD Discovery Centre
BRONZE Maritime Museum of the Atlantic
BEST EFFORT TO IMPROVE HALIFAX
BRONZE Waterfront Construction
BEST FESTIVAL
SILVER Halifax Jazz Festival
BRONZE Halifax Busker Festival
BEST PARTY VENUE
SILVER The Lower Deck, Halifax
FOOD & DRINK
BEST ATMOSPHERE
GOLD The Bicycle Thief
BEST FINE DINING
GOLD The Bicycle Thief
BEST RESTAURANT
GOLD The Bicycle Thief
BEST PASTA
GOLD Ristorante a Mano
BEST ITALIAN RESTAURANT
GOLD Ristorante a Mano
SILVER The Bicycle Thief
BEST BAR
GOLD The Lower Deck, Halifax
BEST ICE CREAM/GELATO/FROZEN YOGURT
GOLD Cows
BEST LIQUOR/WINE STORE
GOLD Bishop's Cellar
BEST PATIO
SILVER Stubborn Goat Beer Garden (restaurant on Grafton also won awards)
BRONZE Gahan House
BEST POUTINE
SILVER Smoke's Poutinerie (also a waterfront kiosk business)
BEST WINE LIST
SILVER The Bicycle Thief
BRONZE Little Oak
BEST SALAD
BRONZE Heartwood (also a waterfront kiosk business)
BEST VEGETARIAN-FRIENDLY RESTAURANT
BRONZE Heartwood
BEST GLUTEN-FREE FRIENDLY
BRONZE Heartwood
BEST SEAFOOD
BRONZE McKelvie's
BEST BREW PUB
BRONZE Gahan House
BEST FARMERS' MARKET STALL
(All Halifax Seaport Farmers' Market)
GOLD Noggins Corner
SILVER Getaway Farm Butcher
BRONZE School House Gluten-Free Gourmet
BEST BUTCHER SHOP
BRONZE Halifax Seaport Farmers' Market
BEST CRAFT BREWERY
BRONZE Garrison Brewing Company
MUSIC
BEST MUSIC FESTIVAL
GOLD Halifax Jazz Festival
ARTS OF THE YEAR
BEST FASHION DESIGNER
GOLD Lisa-Drader Murphy (Historic Properties)