Develop Nova Scotia, Nova Scotia Lands, and Health Care Redevelopment are now Build Nova Scotia.

The Colin MacLean Cup at Sail Nova Scotia's Metro Regatta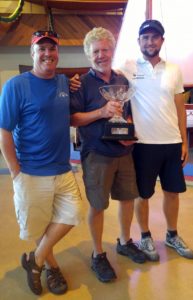 The three class winners, Dan Pride (left), Bill Halliburton (centre) and Roby Douglas
Colin MacLean, former CEO of Waterfront Development, was a transformative leader in Halifax. His vision and passion continues to influence the transformation of the waterfronts. To recognize his contributions, this past summer Sail Nova Scotia announced a new trophy for the annual Metro Regatta, "The Colin MacLean Cup," crafted by NovaScotian Crystal.
"We are pleased that Waterfront Development and the MacLean Family have dedicated this trophy for our Regatta. Colin's passion for promotion of Halifax's exceptional harbour for commercial and recreational activities suits the goals and objectives of Sail Nova Scotia and this regatta perfectly: the promotion of and participation in the sport of sailing in our beautiful province," said Frank Denis with Sail Nova Scotia.
Hosted by Waterfront Development and Maritime Museum of the Atlantic, the regatta took place on the Halifax waterfront over Natal Day weekend — two days of great racing for 15 boats and their crews!