Gary McDonald Recreation Complex Reopened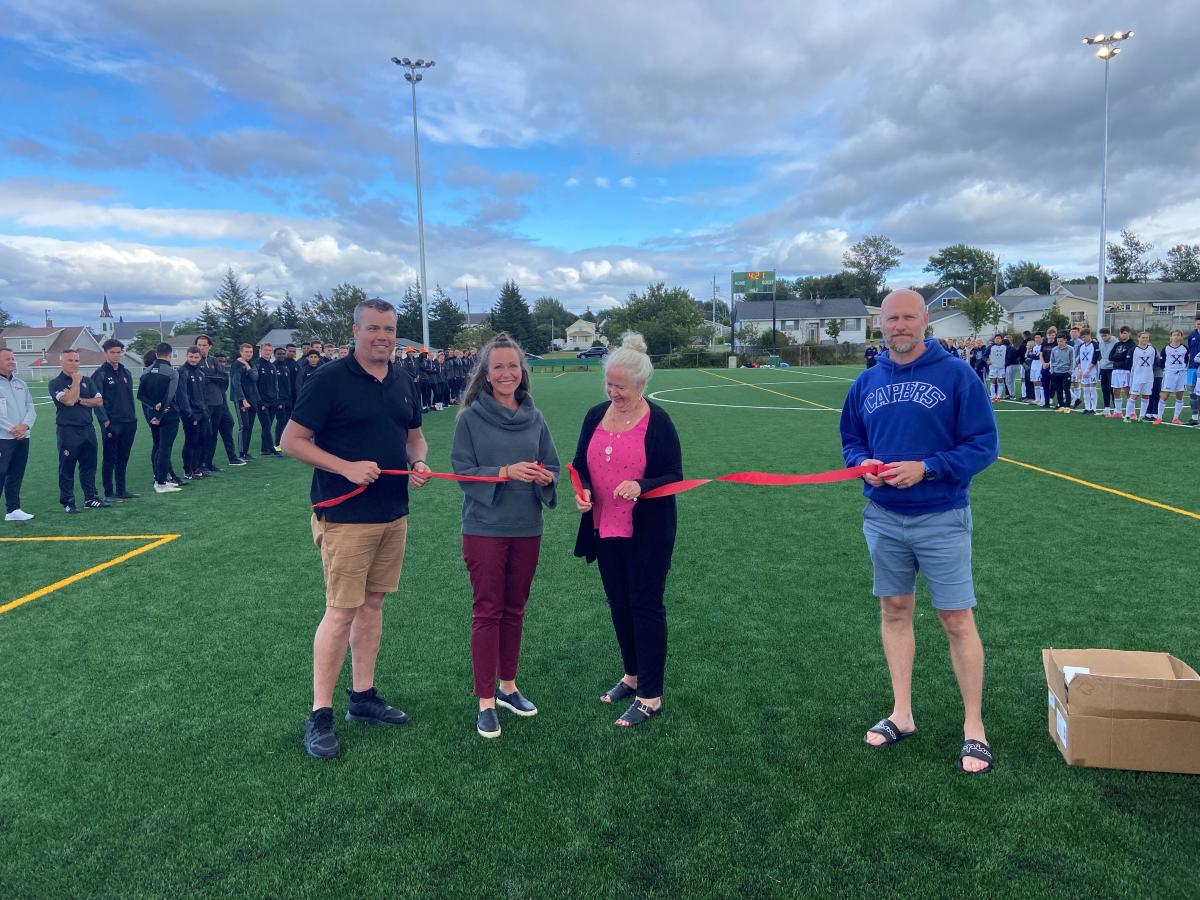 Image: Family of the late Gary McDonald cut the ribbon at the opening ceremony of the new, Gary McDonald Recreation Complex in New Waterford.
New Waterford was buzzing on Sept. 4, as the new Gary McDonald Recreation Complex officially reopened. The event featured Cape Breton University's men's and women's soccer teams squaring off and a ceremony that celebrated several sports legacies from New Waterford.
The new amenities include a state-of-the-art artificial turf field, walking track, tennis courts, updates to the ball hockey rink and basketball court, as well as new outbuildings. A new, grass soccer pitch has also been constructed at Colliery Lands Park.
As part of the CBRM Health Care Redevelopment Project, the new recreational fields are the first step towards a community HUB project that will consist of a new, modern health centre, a 60-bed long-term care home, and Breton Education Centre (BEC) school. The education and community components of the Hub will include two gyms, a 500-seat theatre, community wellness centre and space for the community foodbank.
The CBRM Health Care Redevelopment Project also includes a new Cape Breton Cancer Centre, emergency department, critical care department, inpatient beds, surgical suites and maternal/newborn services at Cape Breton Regional Hospital; a new health centre, long-term care home and laundry centre on the Northside; as well as expansions and renovations to Glace Bay Hospital's emergency department, surgical suites and medical device reprocessing (MDR).
Quick Facts:
in September 2020, government approved $4.5 million to rebuild two existing sports fields and other recreation facilities in New Waterford;
MacKinnon Field and Colliery Lands Park are municipal lands. Cape Breton Regional Municipality (CBRM) Council approved the relocation. Future recreation facilities will continue to be owned by CBRM;
the original artificial turf field is 17 years old;
construction of the fields began in the summer of 2020.