Ida and Robin Scott have recently joined the Waterfront Development team as Lunenburg Waterfront Property Managers. Their company Economic Spectrum Unlimited was the successful proponent to the Lunenburg Property Management Request for Proposals.
Thank you to Echo Bay who led property management services on the waterfront with us previously.
In their new roles in the community, the day to day property oversight, tenant interface, repairs and maintenance and marine services will be led by Robin and business development will be led by Ida, both in partnership with the Waterfront Development team. Joining them is Toby Becktold as the Marina Ambassador on the ground in Lunenburg.
Robin is a well-known figure in the Town of Lunenburg, recently retiring after serving for 26 years as the Recreation Director and Coordinator of Special Events.
Responsible for management of the town's arena, community centre, sport fields, parks, playgrounds and trails, he also established recreation programs to provide residents with opportunities to make constructive use of leisure time for fun and enjoyment. As Special Events Coordinator, he helped organize craft shows, parades, receptions, dinners, Canada Day celebrations, concerts and worked with partners to bring Tall Ships events to Lunenburg.
He notes a big highlight of his career in the recreation field was having the opportunity to spend a month in Whistler, BC as a volunteer at the men's downhill event at the 2010 Olympic Winter Games.
Ida worked as Manager of the Bridgewater Development Association for the past 14 years. Prior to that she was Director of Economic Development for Grand Falls-Windsor, NL (1988 to 1991), and has been President of Economic Spectrum Unlimited since 1991.
She has attracted and organized special events such as the Beach Boys Concert held in Grand Falls-Windsor, NL in 1990; and the Business Retention and Expansion International (BREI) Conference in Bridgewater in 2015.  An accredited Business Retention and Expansion Professional (BREP) through BREI, she has developed and delivered hundreds of workshops for businesses through on the topics of Marketing, Human Resource Development, Strategic Planning and Best Practices
During their five-year term, Robin and Ida will work closely with the Waterfront Development team and look forward to ongoing communication with the waterfront tenants, Lunenburg Harbour users and other partners to look at ways to help enhance and diversify Lunenburg's working waterfront.
Favourite Spot? Robin
"An avid golfer at the Lunenburg Golf Club, I never tire of the view from the golf course across the harbour towards the waterfront and the town as it rises above the docks and the many vessels that populate the harbour. It is truly a special place."
Favourite Spot? Ida
"The Lunenburg Skateboard Park is my favorite spot in Lunenburg.  Since the death of our son, Paul in 2004, we have contributed to two rebuilds of the Skateboard Park, which Paul helped build.  The final permanent concrete Skateboard Park in Lunenburg was made possible through the efforts of Robin as Recreation Director for the Town of Lunenburg, the Town of Lunenburg, the Province of Nova Scotia and Paul's Memorial Fund, through which many people and organizations contributed.  The Paul Scott Memorial Fund has contributed approximately $25,0000 to the upkeep and final rebuild of the Lunenburg Skateboard Park, which has provided much enjoyment to youth in the area for skateboarding, BMX biking and scootering and I never tire of watching kids enjoy the park."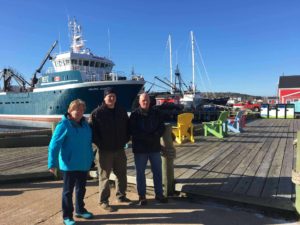 (l-r: Ida Scott, Toby Beckhold, and Robin Scott on the Lunenburg waterfront)