New Public Spaces at CUNARD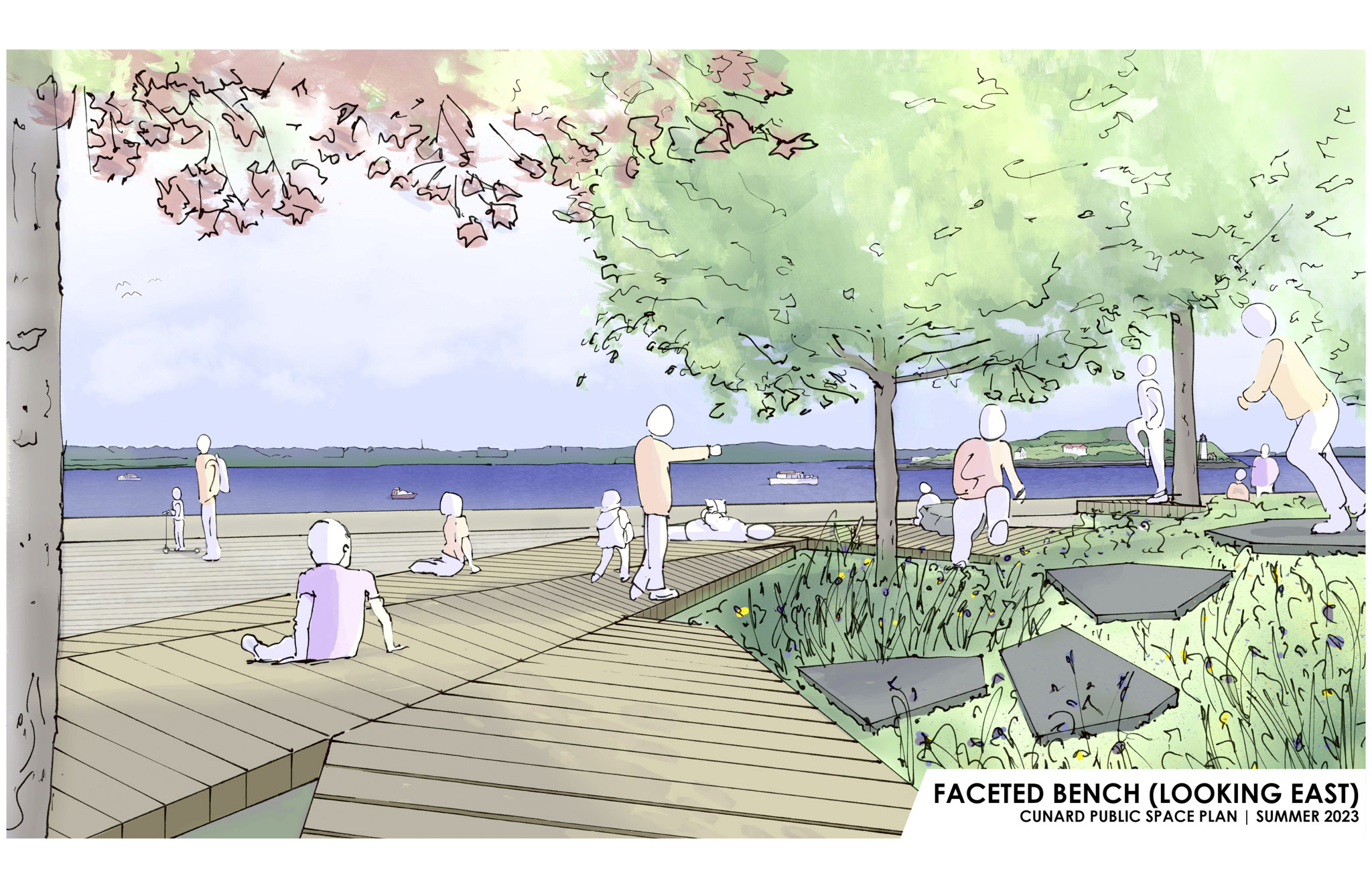 August 29th, 2023 – More space to play is coming to the Halifax waterfront.
Two years of engagement with rightsholders, stakeholders, members of historically and systemically excluded communities, and the general public has resulted in a public space design featuring a suite of new nature-inspired experiences on Halifax's southern waterfront. Developed in partnership with Southwest Properties, CUNARD is a high-quality, mixed-use development surrounded by more than 2 acres of public space, on and surrounding the CUNARD site.
Responding to the ideas we heard, a playful design has been prepared by Hapa Collaborative (Vancouver, BC) in partnership with Brackish Design Studio and EastPoint Engineering (Halifax, NS). Designed to a high standard of accessibility, this new place on the waterfront invites the community to program, activate, and celebrate in the space for years to come.
The design concept takes inspiration from Halifax's geological history, with a series of miniature drumlins (hills formed by glacial action) echoing the original shape and orientation of Elpaqkwitk/Georges Island and Kuowaqe'jk/Citadel Hill. 
With the structural phase of the CUNARD development planned to complete as of mid-September, Build Nova Scotia is now seeking proposals from construction firms to install the project's public space features. Build Nova Scotia will work closely with the selected contractor to minimize disruptions to pedestrian traffic along the boardwalk, and to ensure the project stays on schedule and on budget. While temporary boardwalk closures may be necessary at times, public access to the water's edge will be restored following construction.
All new public space infrastructure has been designed to meet, or exceed, all accessibility requirements and adapt to climate change projections. Resiliency to storms and extreme weather is one of the goals of the public space design.
When construction of the public space is complete (estimated for summer 2024), Build Nova Scotia will manage and operate these new waterfront public spaces and amenities. 
A link to the construction tender can be found here: BNS-2324-0055.
For more information on the CUNARD Public Space project, visit: CUNARD | Build Nova Scotia (buildns.ca)