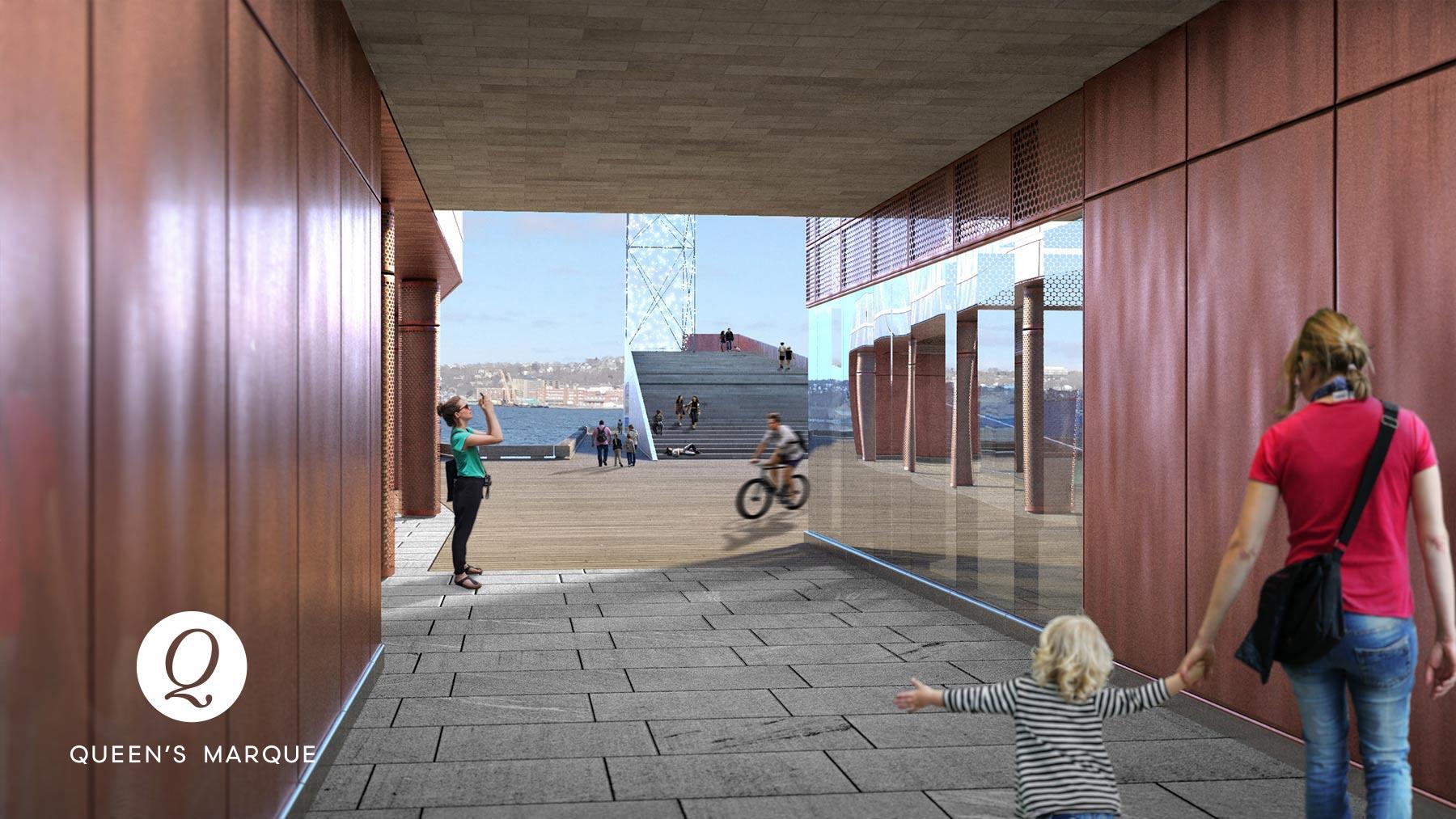 Did You Know? Known historically as Queen's Landing, the Queen's Marque site has a rich military, marine and mercantile past and has been at the core of Halifax since its founding in 1749 .
Project Updates:
Fall/18: Energy Infrastructure first of its kind for Multi-Purpose Development in Atlantic Canada
The Armour Group Limited (The Armour Group) has invested in green energy infrastructure for the Queen's Marque District.  The technology will enable the complex to operate with a level of energy efficiency that is projected to be 50% better than buildings designed in the 1990s, saving approximately 4 Million Kw hours per year.
Through a District Energy Plant, the Queen's Marque Development will benefit from passive heating and cooling using sea water and active chilled beam technology. This will mean tangible energy cost savings for both commercial and residential tenants, effectively removing reliance on conventional heating methods and fossil fuels while preserving an efficient and responsive system.
"We have used sea loop cooling at other projects along the waterfront with great success," notes Armour Group CEO Scott Armour McCrea. "However, in the case of Queen's Marque, we have invested in chilled beam technology and a District Energy Plant – which will enable us to provide energy efficient heating and cooling to an additional 500,000 square feet of downtown development over time."
This is the first time technology of this nature has been deployed at a multi-use building in Atlantic Canada. The system was designed by local firm M&R Engineering Ltd., a continuation of Armour's commitment to work with highly skilled partners in the local market.
Queen's Marque is currently under construction on the Halifax waterfront and will represent an almost $200 million private investment into Nova Scotia by The Armour Group. The project is set to be complete in 2020.
Summer/18: Armour Group has selected celebrated national photographer, Thaddeus Holownia, to create an original work of art to be integrated into the Queen's Marque façade. Read more here.
Spring/18: Construction of the North Wharf, Queen and Cable District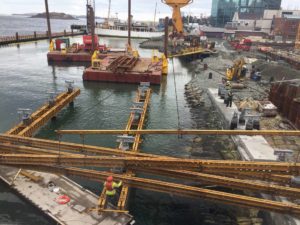 Construction of the North Wharf of the Queen and Cable District is currently underway. The North Wharf will create a magnificent pedestrian experience as the public can enjoy a beautiful walk along the waterfront or pass under the expansive pedestrian gates into the European-style central plaza of Queen's Marque.
To create the North Wharf, pipe piles have been driven into the bedrock to provide support. These pipe piles require cathodic protection to ensure the harbour water will not corrode the metal. Slope protection has been implemented using armour stone and grout bags. Underneath the North Wharf an innovative, sustainable seawater intake pipe has been installed which will draw harbour water into the building to naturally cool the interior of Queen's Marque.
Following the foundation construction, pile cap beams will be formed and poured to support the concrete deck which will be poured in June. Once the concrete deck is complete, timber stringers and decking will be applied. The final step is to install fender piles, walers and sheathing which is expected to be complete by mid-September.
November/17: Queen's Marque Selects Wallace Quarries Ltd. for Historically Relevant Facade
One of the largest purchases of Nova Scotian sandstone in the last century. Read more here.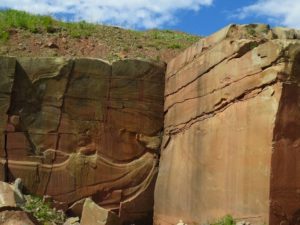 November/17: Creating Queen's Marque Part II: Inclined Rock Anchors
The steel sheet pile (SSP) cofferdam has been designed to resist external soil and hydrostatic pressure. This was accomplished by installing a series of internal structural steel walers and 63 rock anchors that are inclined at 45 degrees down towards the underlying bedrock. Additionally, 162 king pin piles were also installed on the north, west and south sides of the SSP cofferdam. These piles will comprise pipe piles socketed into the bedrock to provide additional resistance from external soil and hydrostatic pressure. Read more here.
Fall 2017 Update: Structural work and removal of old wharves continue at Queen's Marque. When complete, this development will include 75,000 square feet of public space + 3 new public wharves.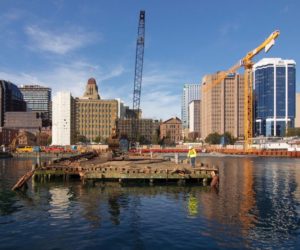 Creating Queen's Marque: Part I
The first stage of the construction of Queen's Marque was to create a cofferdam for the district's underground parking. A cofferdam is a watertight enclosure that allows space to be created below the waterline. For Queen's Marque a steel sheet pile (SSP) cofferdam was constructed around the site, essentially encircling the parkade structure which will be constructed two levels below harbour level. The cofferdam, now complete, will allow the Queen's Marque district to provide over 300 parking stalls in a two-level underground parking structure. This nearly doubles the amount of parking stalls previously offered at the Queen's Landing and Cable Wharf parking lots that were located on the site. Read more here.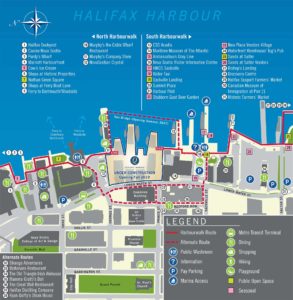 Click here for a PDF copy of the current Construction Mitigation brochure. (May 2017)
Read more here: Important Notice – Halifax Boardwalk Closure
January 2017: Queen's Marque District Underway on the Halifax Waterfront. Read more.
At the foot of George Street, in the centre of the Halifax waterfront, Queen's Marque  is a defining project for Halifax and tells the story of Nova Scotia through form and place.
In partnership with The Armour Group Limited, award winning developer and owner of Historic Properties, Waterfront Development has been working to advance this project to ensure it captures the imagination of our community through public space infrastructure and program design, as well as the attention of the world as an iconic Halifax development.
They unveiled the Queen's Marque district in May, 2016 —  a project shaped by the distinct character and marked experience of this province and its people. With a strong deference to our region's origins, Queen's Marque tells the story of Nova Scotia through form and place employing design, architecture, materials, and art to convey both our heritage and a forward looking sentiment that honours the experience of being Nova Scotian.
The lived experience of Nova Scotia is reflected in the architecture and design of the over 450,000 square foot Queen's Marque district, with 75,000 square feet of public space being created. Construction is expected to start in late 2016, with expected completion in 2019.