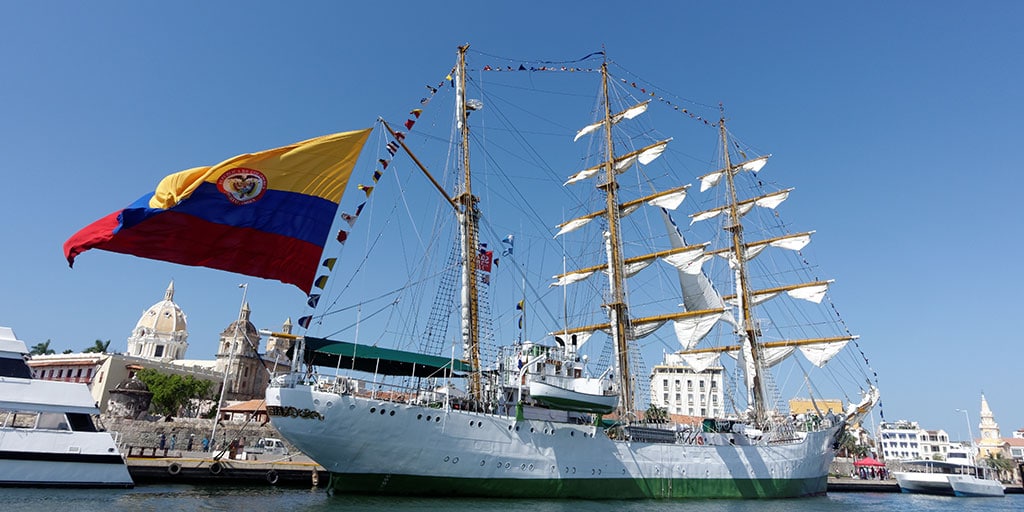 Waterfront Development is pleased to host ARC Gloria of the Colombian Navy, on the Halifax waterfront.
ARC Gloria is a three masted barque sail training vessel from Colombia. She is expected to arrive Monday, July 18 at 9 a.m. and depart Thursday, July 21 at 11 a.m. (she will head to the Naval Dockyard in Halifax).
As part of our Visiting Ship Program, the ship will be open for free public deck tours* and will dock at the Cable Wharf, 1751 Lower Water Street:
Monday, July 18 – Until 6p.m.
Tuesday, July 19 – 9a.m. – 12p.m. & 2p.m. – 6p.m.

The vessel will be also here for Colombia's Independence Day on July 20; access on board that day is by invitation only.
*Please follow us on Facebook andTwitter for any programming changes.
Gloria is one of four sister ships built by the Naval Shipyards of Bilbao, Spain, in 1982, based on a design similar to the 1930 designs of the German firm Blohm & Voss so she is a modern version of the USCGC Eagle. Her contemporaries include Cuauhtémoc (Mexico), Guayas (Ecuador) and Simon Bolivar (Venezuela). Find out more about the ship here or on her website.
Gloria is a Navy sail training vessel and national flag ship for Colombia. Gloria has visited Halifax before and was  part of Tall Ships 2000. Both Cuauhtémoc and Simon Bolivar have both visited Halifax as well.
Aside from these ships, some others to visit as part of our Visiting Ships Program include:
USCGC Eagle (US), STS Lord Nelson (UK), MV Planet Solar (Switzerland), Sedna IV (Canada), Bluenose II (Canada), Tall Ship Statsraad Lehmkuhl (Norway), and Tall Ship Esmeralda (Chile).