About
Peggy's Cove is one of Nova Scotia's most iconic attractions. The unique coastal experience receives national and international recognition and high levels of visitation. With expansive granite rocks, bold coastline, crashing waves, and a historic lighthouse—Peggy's Cove exemplifies the quintessential Nova Scotia that visitors love, and residents cherish.
It is also a living community, an active fishing village, and home to year-round residents.
The Peggy's Cove Master Plan Project began through the Tourism Nova Scotia's Tourism Revitalization of Icons Program (TRIP), an infrastructure funding program focused on revitalizing Nova Scotia's most competitive tourism icons.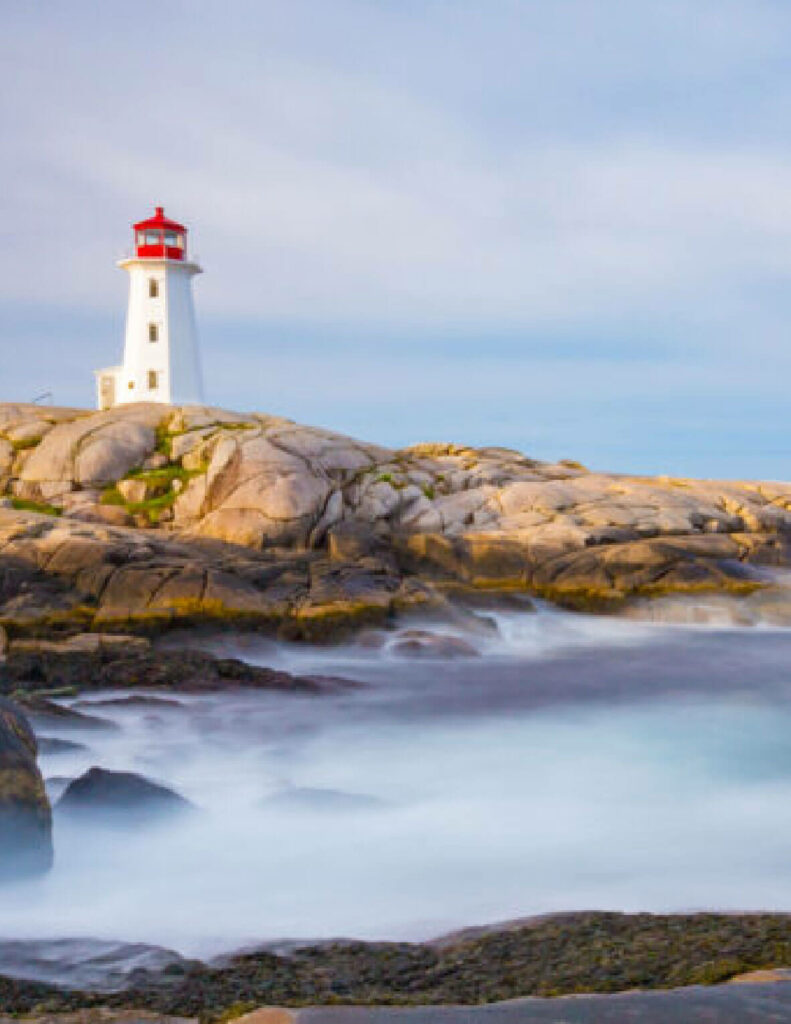 Build Nova Scotia worked in collaboration with the community of Peggy's Cove to complete a comprehensive master plan and to execute the implementation of a first phase of infrastructure improvements that were informed by the master planning process. Given the Cove's unique identity as both tourism icon and living community, and the significant challenges caused by its popularity, this work has been focused on balancing several important priorities:
Ensuring the continued liveability of the community
Creating a safe, accessible, and engaging experience for locals, visitors, and business operators
Protecting the community from the impacts of climate change and sea level rise
Protecting the icon's value and the direct and indirect value that it generates for the province
The challenges facing the Cove are not new, and there has been significant urgency to curb decreasing quality of life for residents, steadily increasing impacts of climate change, and to keep visitor satisfaction rising with visitor numbers. The Peggy's Cove Master Plan Project was devised to tackle these challenges and improve the quality of the village for residents and visitors alike.
COMMUNITY VISION
The Build Nova Scotia team are builders—we oversee opportunities to transform provincially-owned lands and properties to drive our economy forward and improve quality of life for all Nova Scotians. Our partnership and collaboration with the community of Peggy's Cove has been essential to ensure we are planning with and for the community and that we are guided by the community's vision for the future.
Vision for the Community of Peggy's Cove
Peggy's Cove is a world-class fishing village. People feel proud to live here, families thrive here, and residents benefit financially from hosting the world.
Peggy's Cove is a visually authentic and beautiful community with the appropriate physical infrastructure (roads, washrooms, garbage collection, etc.).
Peggy's Cove has effective, clear, and fair rules, regulations, and governance to manage the community first, while accommodating tourism demands so that visitors enjoy their experience and learn about the "real" Peggy's Cove.
Implementation Plan
Our work in Peggy's Cove has been a project of projects, with many elements and even more interdependencies among those elements. The draft Master Plan provided a guide for this work, but further community input, technical studies, and design iteration resulted in adjustments and refinements to many items in the plan and, in some cases, significant changes.
The completion of the first phase of work marks a significant step in the long-term implementation of the Peggy's Cove Master Plan. And our work in Peggy's Cove is not complete. Build Nova Scotia continues to work with residents, stakeholders, partners, and the public to operate and maintain the provincially-owned infrastructure in Peggy's Cove and work with community to steward their vision for the Cove.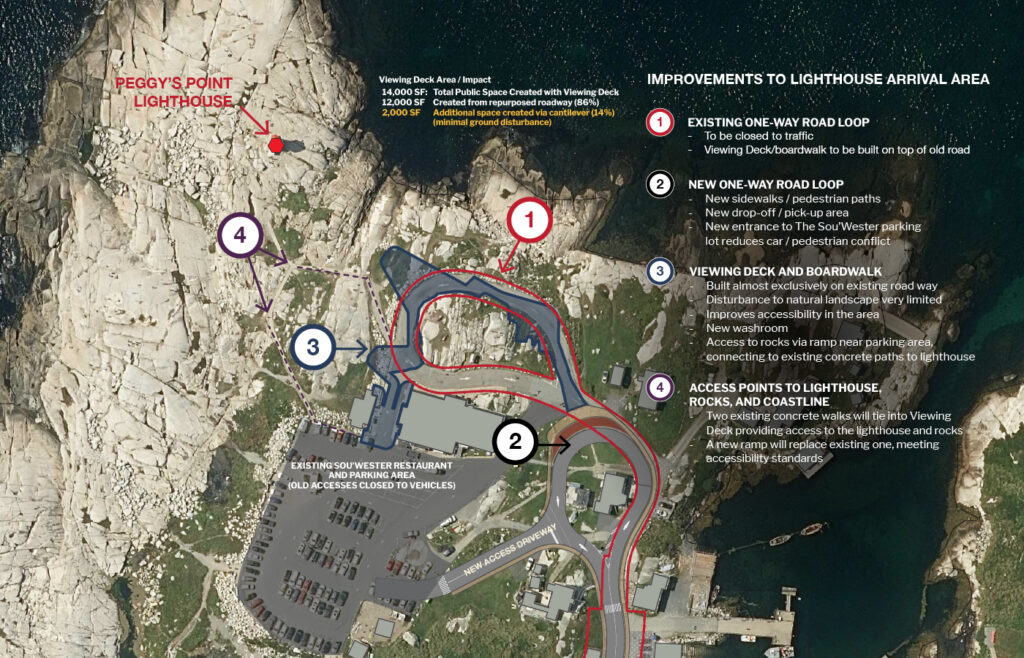 The Implementation Plan provides an overview of the first phase of work that was completed in the fall of 2021:
road work and improvements
VIC parking lot expansion
a revamp of turnaround near lighthouse
breakwater reconstruction
the restoration and repair of the historic DeGarthe Studio
a new, accessible public washroom at the Cove
a parking Inventory System to inform Traffic Management Plan
a new, fully accessible public washroom near the lighthouse
FUNDING
The total investment for the first phase of infrastructure improvements was $9.7M, which was assembled from a number of partners and funding sources.
Climate Adaptation + Visitor Services
Total Funding Investment: $6.5 Million
$2.8
MILLION
---
Nova Scotia Transportation & Infrastructure Renewal
$3.7
MILLION
---
Province of Nova Scotia, Infrastructure Stimulus Funding
Viewing Deck and Lighthouse Public Washroom
Viewing Deck and Lighthouse Public Washroom:
$3.2 Million
$1.79
MILLION
---
Tourism Nova Scotia, TRIP Funding
$1.4
MILLION
---
Government of Canada, ACOA