VIEWING DECK PROJECT
The Peggy's Cove Viewing Deck is a key piece of the Infrastructure Improvement Strategy, creating a safe and accessible visitor experience for everyone.
The design was developed in close collaboration with the community. Work was led by Build Nova Scotia and is funded by Tourism Nova Scotia's Tourism Revitalization of Icons Program (TRIP), the Province of Nova Scotia, and ACOA.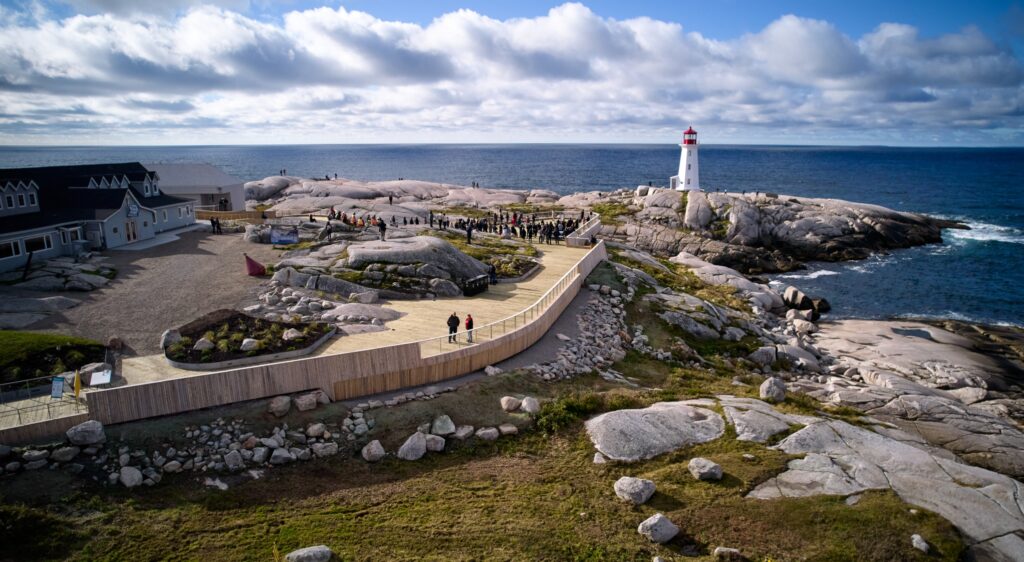 The viewing deck and railings are made of wood and steel, materials that will last and are complementary to the rugged terrain. The rail guard features a steel knit pattern that resembles fish nets. The structure is set into the landscape and takes the shape of the rock so as to avoid overshadowing the real attraction at Peggy's Cove—the lighthouse, the landscape, and waves. Lighting is subtle and focused on safety, placed with the handrail or wheel guards, so as not to detract from the landscape and lighthouse at night.
Most of the viewing deck was built on top of an old roadway and reclaims a space for cars as a safe and accessible place for people.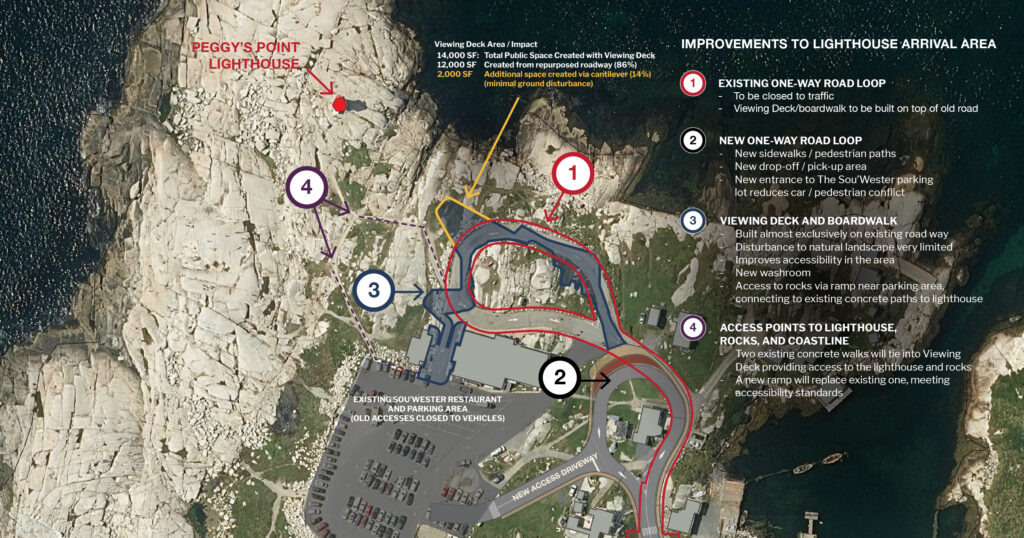 It is a public space where people can view the lighthouse and experience the waves and rocks in a way that is fully accessible and provides a safer viewing option for all.
In 2022, Peggy's Cove Lighthouse achieved a Gold rating through the Rick Hansen Foundation Accessibility Certification™ (RHFAC) program. As one of approximately a dozen Gold-rated tourist sites across the country, this marks a new opportunity for all Canadians to experience the gorgeous site, including the 6.2 million who live with a disability. Read more here.
Other related improvements include public washrooms and improvements to trail connections that lead to the lighthouse and nearby parking area.
The viewing deck and lighthouse washroom opened to the public on October 18, 2021. The lighthouse washroom operates 7 days a week from 9am-5pm.