Public Call for Activations!
Build Nova Scotia curates and manages the Halifax and Lunenburg Waterfronts.
Every year, together with our community and partners, we welcome and host a variety of festivals, activities, events, and programs in these popular places by the sea – to ensure there's always something interesting going on at #MywaterfrontNS.
Do you have an idea you'd like to host and add to the waterfront?
We are seeking potential partners with whom we can collaborate with who want to host interesting, creative, unique, entertaining, welcoming, and inclusive activities to be enjoyed by people on the Halifax and Lunenburg Waterfronts. Share with us how you might bring a waterfront space to life – small or large, any time of year, several times a month or year, or just once.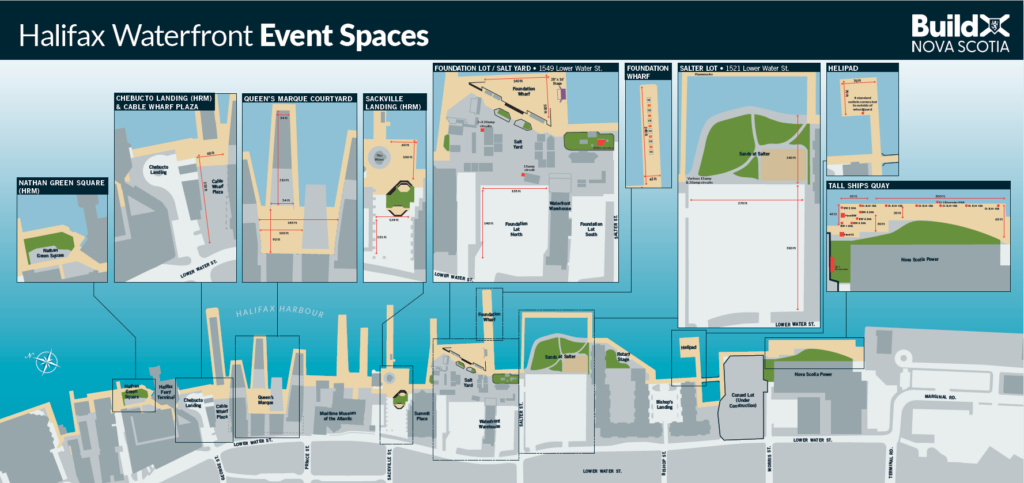 Things to consider:
Activations should be completely accessible to the public – either for free, a fundraiser or a voluntary donation. 
New and different ways to experience the waterfronts are always popular – so use your creativity. Maybe it's a fitness class or art experience? Maybe it's a new festival or a monthly musical feature? Maybe it's an outreach program or a group meditation? Maybe it's a traditional cultural ceremony or event you'd like to share with the public?
Don't forget – we're right next to the water so feel free to explore how boaters and other water users might be able to participate or enjoy.
Great experiences don't need to be big and elaborate – small, simple and engaging works too.
Family-friendly is ALWAYS welcome (pets are family as far as we're concerned)!
Please remember, all of our spaces are completely outdoors.
We encourage you to think somewhat differently. The waterfronts offer all types of spaces, intimate and open, new and old, quiet and busy, that are just waiting to host all different types of activations. It's easy to spread out along the boardwalks (almost 4 km long in Halifax) and enjoy safe and healthy outdoor activity. If you have a space in mind, please let us know – we'll also offer suggestions based on your idea too!

It is important to note, this is NOT an invitation for proposals to start up a business or fill a tenant kiosk on the waterfront. If that is what you'd like to explore, please email bdo@buildns.ca

How do you submit your ideas and when's the deadline?
It's easy to submit your ideas – just complete our Event Request Form.
Submissions will be reviewed weekly starting May 2, 2023. If your event is for before that date, reach out to events@buildns.ca to let us know you submitted one to be reviewed earlier. That's it – easy!

Knowing you'll be eager to get your planning underway, we will get in touch with you within 15 days of your submission.
If you have any questions about Waterfront + please email events@buildns.ca