2017 Spirit of Halifax Award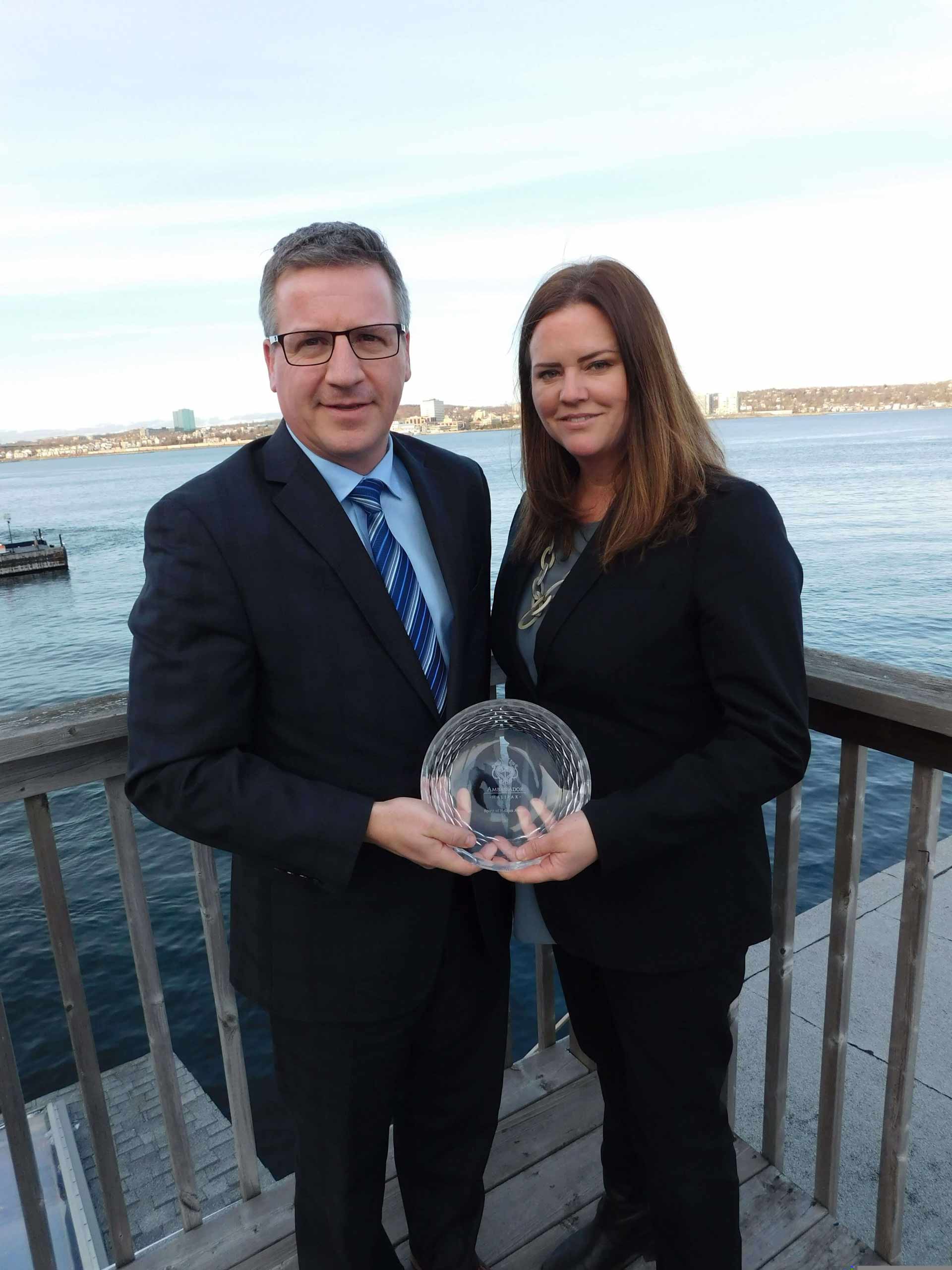 On Friday, December 15, Discover Halifax's President & CEO, Ross Jefferson presented the award to Waterfront Development's Acting President & CEO, Jennifer Angel on the Halifax waterfront –Nova Scotia's most visited destination.
The Spirit of Halifax Award is given to an individual or organization whose outstanding long-term efforts toward launching, or ensuring the success of a major Halifax event, meeting or conference. It is presented to a person or group whose work has made a significant impact on the promotion of the Halifax region, and the economic growth of its tourism sector.
"This award provides us the opportunity to recognize and thank people and organizations who go above and beyond to support our city.  I would like to thank Jennifer Angel and the entire team at Waterfront Development for all of the great work this past year," said Ross Jefferson, President & CEO, Discover Halifax.
2017 has been a big year for Waterfront Development. In addition to supporting partners to host many of the region's annual signature events on our waterfronts, the organization led:
Rendez-Vous 2017 Tall Ships Regatta which included 10 ports across Nova Scotia, and a first time sail past in Annapolis Royal. The event generated approximately $30 million in economic activity, an estimated attendance of 663,000 and attracted more than 94,000 visitors from outside of Nova Scotia.
Partnerships that saw more than 40 events hosted on the waterfronts including Halifax Jazz Festival, Buskers Festival, Ribfest, Halifax Oyster Festival and many many others.
The installation of the Sea Bridge, the seasonal floating extension of the Halifax waterfront boardwalk that allowed visitors to continue to access to Halifax's thriving waterfront through construction.
The successful relocation and expansion of the small, local business cluster on the Halifax waterfront between Salter and Sackville Streets as the transformative $200 million Queen's Marque development got underway.
"We are humbled by this very special recognition that our waterfront team proudly shares with many partners, including Discover Halifax," said Jennifer Angel, Acting President & CEO, Waterfront Development. "How to build upon our ocean advantage for Nova Scotia is what we think about every day at Waterfront Development and it is through strong partnerships that we get the job done.
The Spirit of Halifax Award is part of the Ambassador Program, which is an alliance of individuals and organizations who achieve economic growth for the Halifax region through the promotion of Halifax as a premier meetings and conventions destination.  The program has been led by Discover Halifax since 2002.
This year's 2017 Ambassadors include:
Bruce Balcom, International Conference on Magnetic Resonance
Steven Beyea, International Conference on Magnetic Resonance
Jean-Francois Bousquet, International Conference on Underwater Networks & Systems
Hayley Clarke, International Association of Commercial Administrators
Stan Matwin, Association of Computing Machinery (KDD)
Evangelos Milios, Association of Computing Machinery (KDD)
Hilary Moors-Murphy, Society for Marine Mammalogy
Tonya Wimmer, Society for Marine Mammalogy
Paul Muir, Canadian Applied and Industrial Mathematics
Katie Orr, Canadian Bureau for International Education
Michelle Soucy, Society for Teaching and Learning in Higher Education
About Discover Halifax
Discover Halifax is a non-profit, membership-based marketing and sales organization in partnership with the Halifax regional government, the Hotel Association of Nova Scotia and participating industry members. Since its inception in 2002, Discover Halifax's goal is to promote Halifax as a destination of choice for leisure and business travellers.
Halifax welcomes 5.3 million overnight stays each year, who spend $1 billion. Halifax alone represents over 54% of all visitation to Nova Scotia, and 24,000 Nova Scotians are employed by the tourism industry. 
About Waterfront Development
Waterfront Development is a Nova Scotia crown corporation that contributes to economic growth by developing key waterfront properties in Nova Scotia to maximize their economic impact. We plan, develop, program and manage this land in partnership with private businesses and public sector partners. The revenue generated through these partnerships is reinvested in waterfront infrastructure for the public and to create new platforms for business that support high potential sectors in our economy.