Final World Voyage for Picton Castle + Bosun School

It's the seventh and final world voyage for Barque Picton Castle and Captain Dan Moreland, who has been at the helm of the three-masted barque for 25 years (and this being his eighth world voyage!)
The Captain, his wife Tammy (as purser) and their son Dawson (now 5 years old) will spend the next year sailing from New Orleans to Panama, Galapagos, Pitcairn, Cook Islands, French Polynesia, Tonga, Fiji, Bali, Africa and then crossing the Atlantic to the Caribbean and returning home to Lunenburg in May of 2019.
Open to participants ages 18+ of all nationalities, some sail trainees are joining for the full year while others are coming aboard for a leg. With no sailing experience required (just good health and the desire to be a working part of the crew) Picton Castle is known for its sail training opportunities.
Good news! Picton Castle will still be at the helm of amazing sail training voyages to remarkable places after the world voyage is complete. Sail training opportunities exist around the world and provide skills and self-confidence, and experiences near and far.
Follow along via the Captain's Blog and the ship's Flickr account.
Bosun School:
The learning doesn't only happen on the high seas!
The Picton Castle's Bosun School, located on Lunenburg's working waterfront, is about learning, teaching and passing along the required skills of the sailing ship seafarer. And by ready extension, the skills required of any resourceful mariner sailing in cargo ships, passenger ships, tug-boats, supply boats, fishing vessels, yachts, the Navy and marine related shore positions. These include marinas, maritime schools, museums, sail lofts, rigging lofts, boat yards, ship yards, dry docks and sundry others.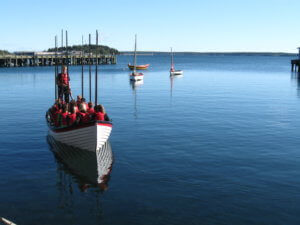 Most of the students have already attended a land-based school, learning in the classroom (for their current position) but still need some additional skills to build their confidence in working on a ship.
The Bosun School gives students time for practical things like wire splicing, that they may not get time for on board. The students listen, watch, then try, try again, and continue trying again and again honing their skills at dozens of different maritime skills. An important part of the course is job placement. To date, everyone who has completed the Bosun School has come away with a great job on a ship!