Simulation software helps staff visualize new CBRM cancer centre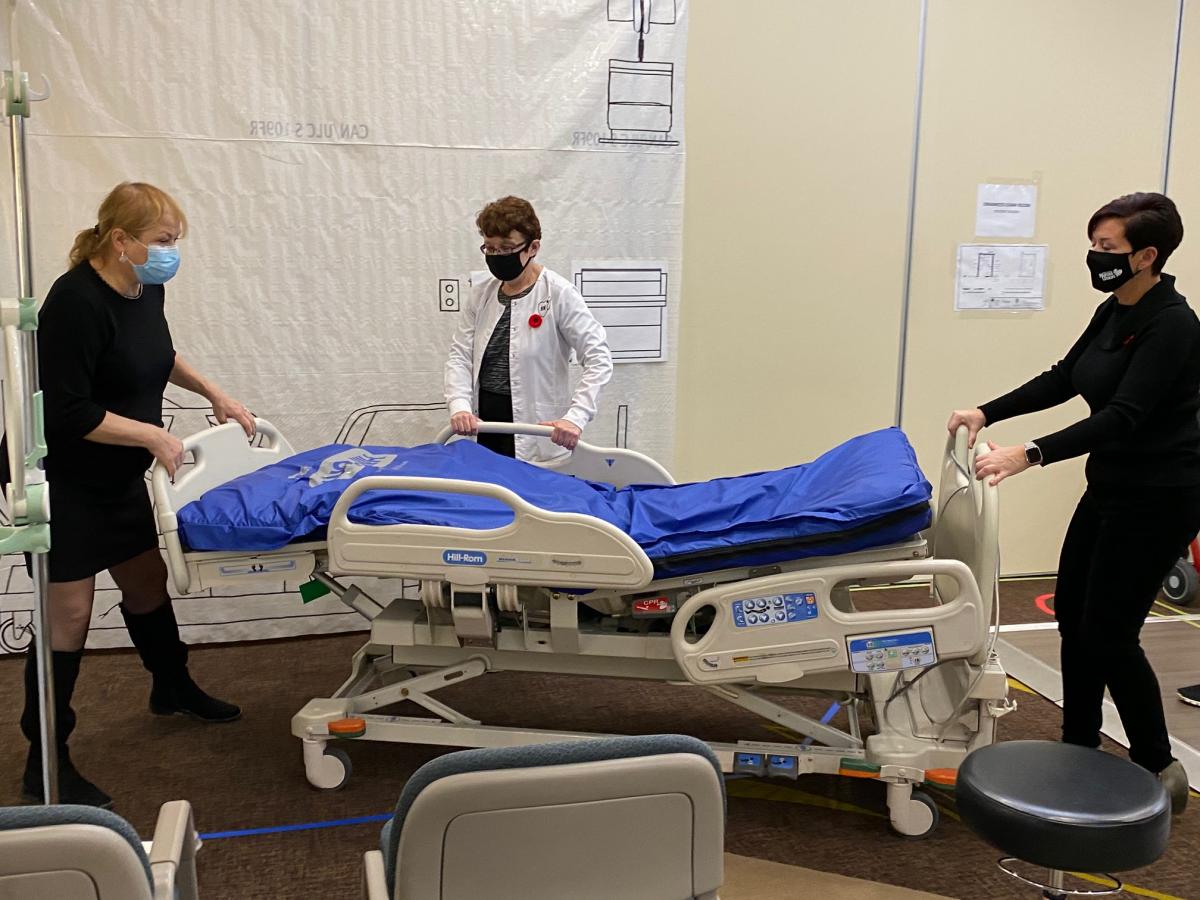 Image: Alena Fisher, senior architect with EXP; Arlene Billard, nurse practitioner in the cancer centre; and Darlene Long-Bates, clinical nurse lead in the cancer centre, take part in a mock-up session.
As part of the Cape Breton Regional Municipality (CBRM) Healthcare Redevelopment project, the expansion of the Cape Breton Regional Hospital in Sydney will include a new, larger cancer centre that will enhance the quality of care for patients – closer to home – and reduce the number of visits over the course of treatment.
Currently, planning for the Cape Breton Cancer Centre is in the "detailed design" phase. To help staff and physicians gain a sense of how the new build will look and function, they are putting simulation software and training to use.
In construction projects, simulation tools help determine how the buildings will be used once they're complete and help ensure that the design will meet future patient needs.
"Simulations give both patients and staff the opportunity to visualize what a day in the new Cape Breton Cancer Centre will look like – it's a chance to review and improve processes while the facility is being constructed," says Shaun Dieltgens, an industrial engineer with Nova Scotia Health (NSH) working as part of the CBRM Health Care Redevelopment Team.
To complement this work, project designers are also using a mock clinical room to give staff a sense of how the new space will be laid out. Dr. Elwood MacMullin, senior director with the CBRM Health Care Redevelopment Project, says this is an important step in the planning process and speaks to the importance of involving local health care workers in the process.
"We have an opportunity to revolutionize the way we deliver health care locally and we need to get it right," he says. "Using these tools gives our staff an idea of what's to come, involves them in the process and will help us build a cancer centre that will be efficient for staff, physicians, patients and families."