About
Developed in partnership with Southwest Properties, CUNARD will be a high-quality, mixed-use project that will contribute to a total of 3 acres (2 acres land + 1 acre water) of exciting new public space, on and surrounding the site, on the Halifax Waterfront, near the intersection of Lower Water Street and Morris Street.
The development, built to LEED® Gold certification, will feature 231 rental units, interior parking, and ground level retail. Together, the building and its surroundings will form a new destination on the southern waterfront.
Southwest Properties started construction on the CUNARD project in spring 2021, and completion is scheduled for early 2024. Once the project is complete, Build Nova Scotia will manage and operate new, high-quality waterfront public space that will welcome locals and visitors of all ages to come play on the waterfront. We will maintain continuous public access to the water's edge during and after the site's development.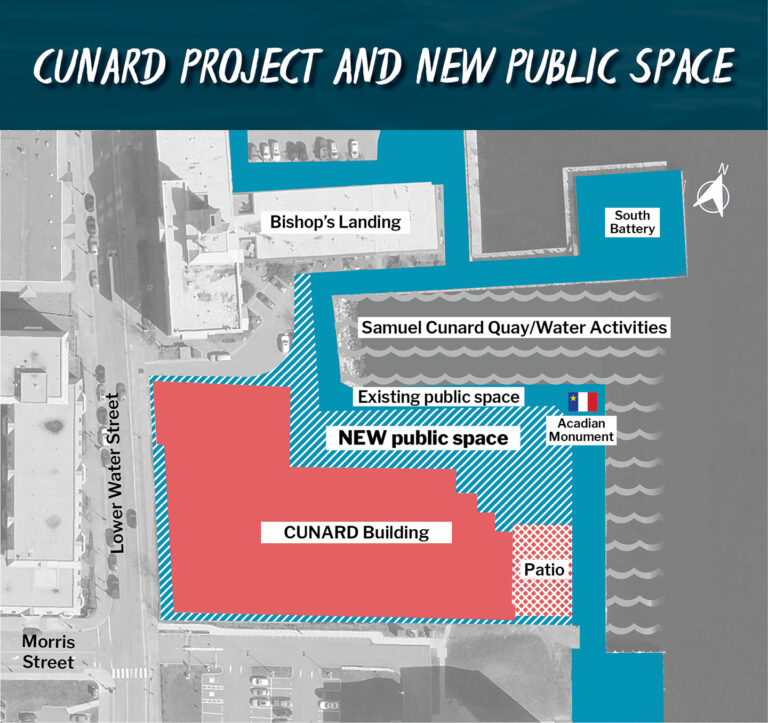 PUBLIC SPACE & COMMUNITY ENGAGEMENT
Since late 2020, Build Nova Scotia has been engaging with rightsholders, stakeholders, members of marginalized communities, underrepresented groups, and the general public on the design of the public spaces that will surround the CUNARD development. Guided by past conversations about the waterfront, our conversations have focused on two objectives:
Making the waterfront a welcoming, inviting, and comfortable place for everyone to visit and spend time; and
Improving the range of fun, recreational, and "backyard" amenities available to residents and visitors in downtown Halifax.
To date, our engagement process has included:
183 hours of detailed conversation about play, inclusion, and countless other topics with 145 experts, rightsholders, and stakeholders
Pop-up waterfront engagement conversations with 231 people
Ten listening sessions (thematic group conversations) with 52 participants
Three roundtable sessions (focused discussions) with 21 participants
Two inspiration sessions (design workshops) with 15 participants
192 online surveys submitted by the public
750+ unique ideas for the waterfront recorded to date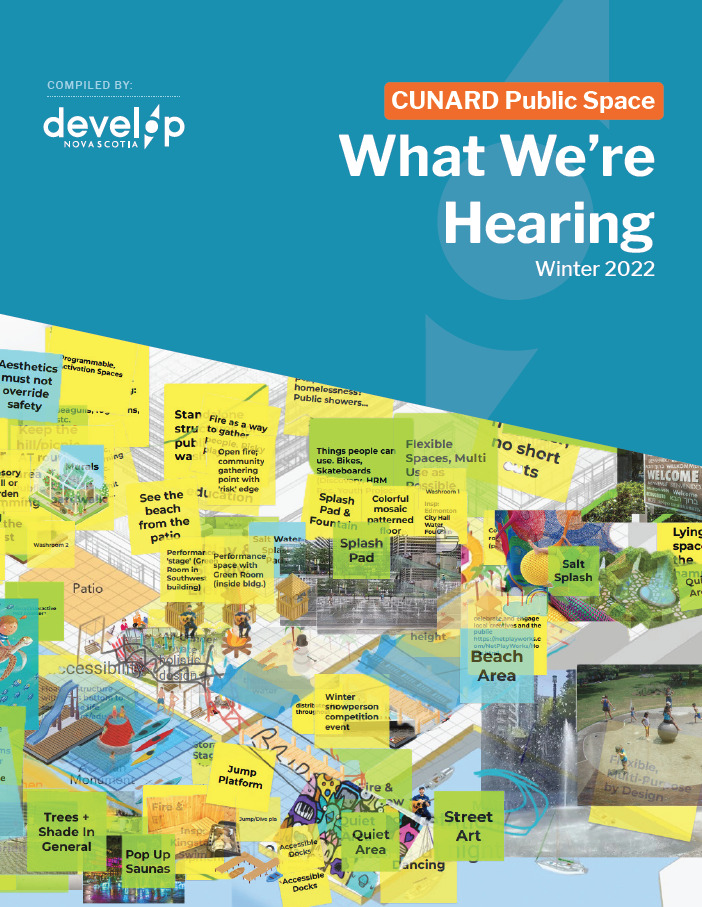 Our sincere thanks to everyone who has contributed to this process since late 2020.
Public Space Design Concept
December 2022: The detailed design phase for the public space is now underway, via a design team led by Hapa Collaborative. As part of the design development, this process will determine feasibility, costs, timelines, and ongoing operational and maintenance needs for CUNARD's new public spaces. All new infrastructure is expected to be designed to meet or exceed all accessibility requirements, and to adapt to climate change projections.
This phase will lead to a construction RFP anticipated in Spring 2023.
Build Nova Scotia will construct, manage, and operate this suite of new, high-quality waterfront public spaces and amenities. We will continue to provide periodic community updates on the project and next steps regarding the public space.
Public access to the water's edge will be maintained after construction. Efforts will be made to phase the work in order to avoid boardwalk access restrictions as much as possible during the construction phase.
Substantial completion of the building and public space is anticipated for April 2024.
August 2022: A Request For Proposals (RFP) was issued for the detailed design of CUNARD's public spaces. The RFP closed on September 8, 2022. The winning design team is responsible for turning the preliminary design concept, prepared by Fathom Studio in 2021/22, into a detailed and construction-ready design.
The design concept was based on Build Nova Scotia's extensive public and inclusive stakeholder engagement process for this project (see details above). The concept emphasizes play, free recreational amenities, and a new kind of public space along the waterfront and within downtown Halifax. The concept is intended to be accessible, welcoming, and fun for people of all ages and backgrounds. It includes consideration for water play, natural play features, and new seating areas and shade. Later phases may also include quiet and sensory-friendly zones, new public washrooms, and landscaping along the waterfront extension of Morris Street.
Technical and other constraints may result in changes to the design and its features as details are refined. Please check back here for further updates and engagement opportunities.
Servicing Work
Although work is not expected to be required outside of the times listed above, if, for any reason, work is anticipated to be required outside of these hours, the contractor will apply to HRM for approval 5 business days (minimum) in advance of such work and obtain approval prior to proceeding. It is noted that HRM's Noise By-Law cannot be altered without HRM council approval; work must adhere to the Noise By-Law.